This month 6 books were reviewed on The Book Stack with an average rating of 4.2 stars. On top of reviews I was tagged by Siobhan to participate in The Mystery Blogger Award tag, and I really loved getting to read all of your answers. Though this was a light month for reading, I think I was as lucky as I could be with what was up for review. So, without further ado, my favorites of the month. 
Best of April
My Sister, the Serial Killer:
 This short, twisted story is easily one of my favorite books that I've read this year. Braithwaite's debut is the best thriller that I've read since my all-time favorite, The Crow Girl. What struck me the most is how real the relationship between Korde and her younger sister feels. In addition to being a witty thriller, My Sister, the Serial Killer is an insightful take on family dynamics and the lengths that people will go to for the ones they care about. You can read the full review here.
A Quick & Easy Guide to Queer and Trans Identities: As I began looking at more graphic novels to review (because honestly, besides YA books, graphic novels have some of the most queer rep I've seen), I cam across this charming book. This illustrated guide is a an inclusive, comprehensive look at a variety of sexualities and gender identities. Just from the art, it's obvious that this is meant to be accessible to younger readers, but I would recommend highly it for any age group. You can read the full review here,
What I'm Looking Forward to in May
Unraveling by Karen Lord:
So many elements of this book captured me from the moment I read the description, so I'm just going to shut up and let you get to the good part.
"Dr. Miranda Ecouvo, forensic therapist of the City, just helped put a serial killer behind bars. But she soon discovers that her investigation into seven unusual murders is not yet complete. A near-death experience throws her out of time and into a realm of labyrinths and spirits. There, she encounters brothers Chance and the Trickster, who have an otherworldly interest in the seemingly mundane crimes from her files."
The Luminous Dead by Caitlin Starling:
I haven't really started reading this book yet, but I took a peek at the first 30 or so pages last week and holy shit it's good. I would hardly have guessed this is Starling's debut novel. If the book keeps up with the pace that was set early on, The Luminous Dead will easily be in the running for one of my favorite books of 2019.
"When Gyre Price lied her way into this expedition, she thought she'd be mapping mineral deposits, and that her biggest problems would be cave collapses and gear malfunctions. She also thought that the fat paycheck—enough to get her off-planet and on the trail of her mother—meant she'd get a skilled surface team, monitoring her suit and environment, keeping her safe. Keeping her sane. Instead, she got Em."
Red, White, & Royal Blue by Casey McQuiston: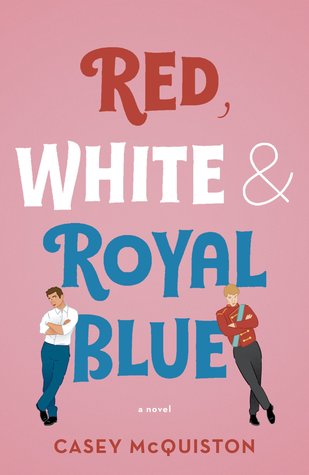 I think at this point, virtually everyone has heard the buzz about this book. A rom-com is way outside what I would typically pick up, but I've given in to the peer pressure. By all accounts this is a funny, wholesome story with well written characters and I'm really looking forward to it.
"A big-hearted romantic comedy in which First Son Alex falls in love with Prince Henry of Wales after an incident of international proportions forces them to pretend to be best friends…"
---
What are you looking forward to reading in next month? Are we going to be reading any of the same books? Let me know below!