In celebration of Pride Month I'll be sharing 30 books with some awesome queer representation. Will these 30 books be representative of all the varied, amazing works by queer authors? Not at all. These recommendations are personal and are heavily influenced by the genres I love and the types of characters I tend to connect with. All books on these lists are ones that I'm reading, that I've loved, and that I'm excited to share with you. In this series of recommendations, it is safe to assume that all books listed are Own Voices unless otherwise noted. Instead of inundating your inboxes with a post every day, these recommendations will be coming out every Saturday in June, with a theme tying each list of books together. 
My Pride TBR
Not a lot of heavy-hitting fiction to be found here, I'll be honest. My birthday is in a couple weeks so I'd be a little indulgent in terms of mood reading even if it wasn't pride month. On top of it all, just yesterday the 150th mass shooting in the U.S. occurred in Virginia Beach, just a few minutes away from the house I grew up in. I relocated awhile ago but it is still an incredible thing to process hundreds of miles away. So I may be reaching for fantasy and sci-fi for the escapism a little heavier than usual this month.
* = I was not able to confirm with complete certainty that this book is Own Voices or it is not Own Voices.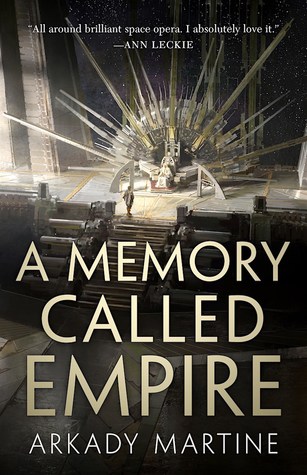 1. A Memory Called Empire by Arkady Martine
Ambassador Mahit Dzmare arrives in the center of the multi-system Teixcalaanli Empire only to discover that her predecessor, the previous ambassador from their small but fiercely independent mining Station, has died. But no one will admit that his death wasn't an accident–or that Mahit might be next to die, during a time of political instability in the highest echelons of the imperial court. Now, Mahit must discover who is behind the murder, rescue herself, and save her Station from Teixcalaan's unceasing expansion–all while navigating an alien culture that is all too seductive, engaging in intrigues of her own, and hiding a deadly technological secret–one that might spell the end of her Station and her way of life–or rescue it from annihilation.
Science Fiction | March 26, 2019 | Goodreads
2. The Luminous Dead by Caitlin Starling
When Gyre Price lied her way into this expedition, she thought she'd be mapping mineral deposits, and that her biggest problems would be cave collapses and gear malfunctions. She also thought that the fat paycheck—enough to get her off-planet and on the trail of her mother—meant she'd get a skilled surface team, monitoring her suit and environment, keeping her safe. Keeping her sane. Instead, she got Em… As Gyre descends, little inconsistencies—missing supplies, unexpected changes in the route, and, worst of all, shifts in Em's motivations—drive her out of her depths. Lost and disoriented, Gyre finds her sense of control giving way to paranoia and anger. On her own in this mysterious, deadly place, surrounded by darkness and the unknown, Gyre must overcome more than just the dangerous terrain and the Tunneler which calls underground its home if she wants to make it out alive—she must confront the ghosts in her own head.
Science Fiction, Horror | April 2, 2019 | Goodreads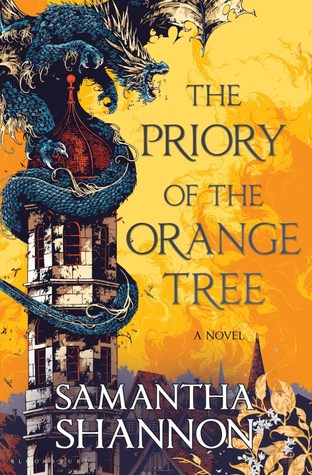 3. The Priory of The Orange Tree by Samantha Shannon*
The House of Berethnet has ruled Inys for a thousand years. Still unwed, Queen Sabran the Ninth must conceive a daughter to protect her realm from destruction—but assassins are getting closer to her door. Ead Duryan is an outsider at court. Though she has risen to the position of lady-in-waiting, she is loyal to a hidden society of mages. Ead keeps a watchful eye on Sabran, secretly protecting her with forbidden magic. Across the dark sea, Tané has trained all her life to be a dragonrider, but is forced to make a choice that could see her life unravel. Meanwhile, the divided East and West refuse to parley, and forces of chaos are rising from their sleep. 
Fantasy | February 26, 2019 | Goodreads
4. Infomocracy by Malka Older
It's been twenty years and two election cycles since Information, a powerful search engine monopoly, pioneered the switch from warring nation-states to global micro-democracy. The corporate coalition party Heritage has won the last two elections. With another election on the horizon, the Supermajority is in tight contention, and everything's on the line. With power comes corruption. For Ken, this is his chance to do right by the idealistic Policy1st party and get a steady job in the big leagues. For Domaine, the election represents another staging ground in his ongoing struggle against the pax democratica. For Mishima, a dangerous Information operative, the whole situation is a puzzle: how do you keep the wheels running on the biggest political experiment of all time, when so many have so much to gain?
Science Fiction | June 7, 2016 | Goodreads
5. Sugar Run by Mesha Maren
In 1989, Jodi McCarty is seventeen years old when she's sentenced to life in prison for manslaughter. She's released eighteen years later and finds herself at a Greyhound bus stop, reeling from the shock of unexpected freedom. Not yet able to return to her lost home in the Appalachian mountains, she goes searching for someone she left behind, but on the way, she meets and falls in love with Miranda, a troubled young mother. Together, they try to make a fresh start, but is that even possible in a town that refuses to change? 
Contemporary, Literary Fiction | January 8, 2019 | Goodreads
6. Alice Isn't Dead by Joseph Fink*
Keisha Lewis lived a quiet life with her wife, Alice, until the day that Alice disappeared. After months of searching, presuming she was dead, Keisha held a funeral, mourned, and gradually tried to get on with her life. But that was before Keisha started to see her wife, again and again, in the background of news reports from all over America. Alice isn't dead, and she is showing up at every major tragedy and accident in the country. Following a line of clues, Keisha takes a job as a long-haul truck driver and begins searching for Alice. She eventually stumbles on an otherworldly conflict being waged in the quiet corners of our nation's highway system—uncovering a conspiracy that goes way beyond one missing woman.
Mystery, Horror | October 30. 2018 | Goodreads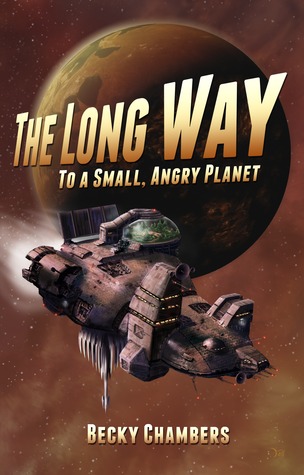 7. The Long Way to a Small, Angry Planet by Becky Chambers
Rosemary Harper doesn't expect much when she joins the crew of the aging Wayfarer. While the patched-up ship has seen better days, it offers her a bed, a chance to explore the far-off corners of the galaxy, and most importantly, some distance from her past. An introspective young woman who learned early to keep to herself, she's never met anyone remotely like the ship's diverse crew, including Sissix, the exotic reptilian pilot, chatty engineers Kizzy and Jenks who keep the ship running, and Ashby, their noble captain. Life aboard the Wayfarer is chaotic and crazy—exactly what Rosemary wants. It's also about to get extremely dangerous when the crew is offered the job of a lifetime. Tunneling wormholes through space to a distant planet is definitely lucrative and will keep them comfortable for years. But risking her life wasn't part of the plan. In the far reaches of deep space, the tiny Wayfarer crew will confront a host of unexpected mishaps and thrilling adventures that force them to depend on each other.
Science Fiction | July 29, 2014 | Goodreads
---
And that's a wrap for week one! Look out for a list of books with LGBTQ+ rep that I've loved next Saturday.
Have you read any of the books on my TBR? What's on your TBR this month? Let me know in the comments!