In celebration of Pride Month I'll be sharing 30 books with some awesome queer representation. Will these 30 books be representative of all the varied, amazing works by queer authors? Not at all. These recommendations are personal and are heavily influenced by the genres I love and the types of characters I tend to connect with. All books on these lists are ones that I'm reading, that I've loved, and that I'm excited to share with you. In this series of recommendations, it is safe to assume that all books listed are Own Voices unless otherwise noted. Instead of inundating your inboxes with a post every day, these recommendations will be coming out every Saturday in June, with a theme tying each list of books together.
LGBTQ+ Books I've Loved (Pt. 1)
Hello again! Welcome to the second post in this series. This week (and next week, spoiler alert) I'll be talking about LGBTQ+ book that I have a connection to and that I've really loved. Many of these are more recent reads, you'll notice. This is mainly because for most of my life I was never in a place where I could consume books with queer characters. After these recommendations I've linked several awesome posts that have come out in the past weeks, I'm sure you'll find something to pique your interest there!
* = This book is not Own Voices.
8. The Song of Achilles by Madeline Miller*
I hesitated when wondering whether I should keep The Song of Achilles on this list but you know what, here it is. Now why, you may ask, would I bother putting this book that (1) isn't own voices and (2) literally everyone has heard of or read in the past 8 years? The Song of Achilles actually has a special place in my heart. Not only is it a testament to what a powerful storyteller Madeline Miller is, this book was the first I ever read that had queer characters in it. My best friend at the time slipped me a bootleg e-copy so I could read it in secret, and it was transformative. To this day, I love it just as much.
Fantasy, Mythology| September 20, 2011 | Goodreads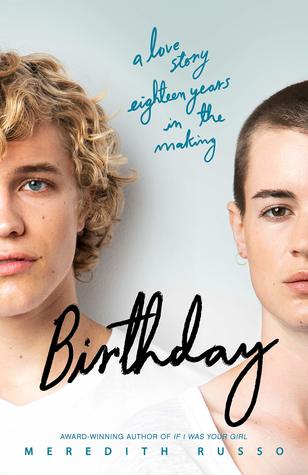 9. Birthday by Meredith Russo
Unless you're to this blog, you've heard me raving about this book for roughly a month and a half at this point and here we go again! Birthday was not something I actively sought out or requested, but instead offered to me by the publisher by chance. I was sold immediately by the own voices trans representation in this book, but it really and truly blew me away. I tend to stay away from YA because, to make a very broad generalization, I have a hard time connecting with those characters. This was not the case with Birthday in the slightest. These characters are believable from the moment they appear and grow on you immediately. The romance in this book was sweet, and the ending left me with hope in my heart. [Note: Before picking this book up, please see the full review for a list of content warnings.]
Young Adult, Contemporary Romance | May 21, 2019 | Goodreads | Full Review
10. Defense of an Other by Grace Mead
If you asked me to recommend a similar book to Defense of an Other, I'd stare at you blankly. I know this for a fact because after months of seeking I've not come across anything comparable to this. How could you possibly beat a legal thriller written by a queer practicing attorney? Set in Louisiana over a decade ago, Defense of an Other begins as the main character is the victim of a hate crime. His sexuality, as well as his innocence are parsed out and examined under a microscope in trial that follows. What begins as a whip-smart courtroom drama goes further, eventually exploring  the greater theme of discrimination against queer people in the United States justice system.
Legal Thriller | November 13, 2018 | Goodreads | Full Review
11. Magic for Liars by Sarah Gailey
This recent release seems to have a lot of reviewers divided, but if you've seen my review you already know that I was absolutely delighted by this discussion of morality wrapped up in a magical package. This book adheres to what I'd say is typical of Sarah Gailey: characters of all different ages, races, and sexualities. There is no discrimination or hate, it is simply the norm. While stories of self-discovery with respect to one's identity are an important and vital part of queer literature, I love stories like this just as much.
Fantasy, Mystery | June 4, 2019 | Goodreads | Full Review
12. No Man of Woman Born by Ana Mardoll
Speaking of normalizing the presence of queer people in genre fiction, I present you with No Man or Woman Born. Like Birthday, this is a book I just happened to stumble upon and it made my whole month. This collection of fantasy stories centers around characters that are trans, non-binary, genderfluid (many of whom use neopronouns). In each tale Mardoll masterfully subverts longstanding tropes within the genre and leaves you smiling as they do so.
Fantasy | July 10, 2018 | Goodreads | Full Review
13. Lord of the Butterflies by Andrea Gibson
Here's the odd book out on these lists: a collection of poems by Andrea Gibson. I don't dislike poetry by any means, but I have never in my life been able to connect to a collection like I did with this one. Gibson touches on gender, sexuality, loss, and love in their poems. I consumed this book all in one sitting because I could not physically pull myself away from their words. I felt so seen by these poems, and I feel as if many other queer readers- lovers of poetry or not- will feel the same. [Note: I would highly, highly recommend watching Gibson perform these poems themself. General content warnings for this collection include mention of suicide, homophobia, and violence.]
Poetry | November 27, 2018| Goodreads | Full Review
14. Sooner or Later Everything Falls Into the Sea
I finished Sooner or Later Everything Falls Into the Sea a few weeks ago after and I still haven't been able to bring myself to write a real review of this magnificent book. It's just too good. When I was reading, I was completely transported into whichever world Pinsker was presenting, and finishing each story came with the shock that I was not among her characters in a far away place. For anyone who might love more literary science fiction and fantasy, I cannot recommend this highly enough. This collection is truly a gift.
Speculative Fiction | March 19, 2019 | Goodreads
Other Great Pride Posts!
I'm so floored by all the amazing content being put out by other reviewers this month, how could I not share? These are of course, just a small selection of the great posts I've stumbled upon in the past week (and then, the ones I remembered to grab the URL of before losing posts to The Void).
If you're reviewing LGBTQ+ books, sharing recommendations for Pride, hosting reading challenges or anything else, leave a link in the comments or send me a message so I can include it in these posts!
---
And that's a wrap for week two! Look out for the second half this list next Saturday. 

Have you read any of these books? What are some of your favorite books featuring  LGBTQ+ characters? Let me know in the comments!