In celebration of Pride Month I'll be sharing 30 books with some awesome queer representation. Will these 30 books be representative of all the varied, amazing works by queer authors? Not at all. These recommendations are personal and are heavily influenced by the genres I love and the types of characters I tend to connect with. All books on these lists are ones that I'm reading, that I've loved, and that I'm excited to share with you. In this series of recommendations, it is safe to assume that all books listed are Own Voices unless otherwise noted. Instead of inundating your inboxes with a post every day, these recommendations will be coming out every Saturday in June, with a theme tying each list of books together.
LGBTQ+ Books I've Loved (Pt. 2)
Hello again! Welcome to the second post in this series. This week I'm continuing rambling from last week about LGBTQ+ book that I have a connection to and that I've really loved. Many of these are more recent reads, you'll notice. This is mainly because for most of my life I was never in a place where I could consume books with queer characters. After these recommendations I've linked several awesome posts that have come out in the past weeks, I'm sure you'll find something to pique your interest there!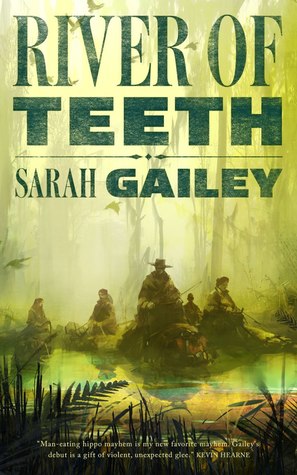 15. River of Teeth by Sarah Gailey
River of Teeth is for me the epitome of a book I absolutely needed in my life and had no idea until I picked it up. One of my favorite shows growing up was Firefly. I loved the sharp humor and wild west setting and I've had a soft spots for sci-fi westerns ever since. This novella and it's sequel (see #16) solidified Sarah Gailey in my mind as the brilliant writer they are. This book took all my favorite tropes and and spun them into an action-packed tale of hippo-wrangling that features badass characters that aren't just cis het white males!
Speculative Fiction| May 23, 2017 | Goodreads
16. Taste of Marrow by Sarah Gailey
Where River of Teeth fulfilled all my wildest dreams of seeing characters I could really relate to in a setting that had all the best parts of a show I grew up loving (and more), Taste of Marrow really delves in to the relationships of this rag-tag group of people without sacrificing any of the wit, humor, or action that made this book so great. I was laughing out loud (oh yes, literally cackling) and tearing up when I wasn't cursing the fact that there are only two books in Gailey's alt-history world.
Speculative Fiction| September 12, 2017 | Goodreads
17. Red, White & Royal Blue by Casey McQuiston
So I'm actually in the middle of a re-read, which is beyond out if the norm for me. This book reads nothing like a debut and it broke my freaking heart, then pieced it back together with witty dialogue, wonderful characters, and one of the most satisfying endings of any book I've read this year. This book will make you experience All The Feelings and leave you feeling hopeful in the end.
Contemporary, Romance| May 14, 2019 | Goodreads
18. Waves by Ingrid Chabbert, Carole Maurel (Illustrator)
Waves makes my heart heavy just to think about, but it's so beautiful there's no way I could leave it off this list. This short but poignant graphic novel follows a couple who have just lost their child. Their grief, their pain, and their eventual healing stems from Chabbet's experiences with her wife, all of it poured on to the page and coupled with incredible artwork by Maurel. Heartbreaking, but still well worth the read. See the full review for more details about content.
Fiction| May 14, 2019 | Goodreads
19. This is How You Lose the Time War by Amal El-Mohtar, Max Gladstone
I think I might be a little biased since I exclusively use twitter to keep up with queer speculative fiction authors (and NASA), but this book has been everywhere lately and it so well deserved. If you aren't down with an epistolary f/f romance between time-traveling spies on opposite sides of a war on such a scale it is incomprehensible to our wee human brains, I can't help you. The prose could be poetry it's so rich and lush and the romance in this book captured my heart for the beginning. Seriously, I know this statement might not make sense in the little context I've given you, but This is How You Lose the Time War is one of the most romantic stories I've ever read. Absolutely one of the best books I've been lucky enough to read in 2019.
Science Fiction| July 16, 2019 | Goodreads
20. The Seep by Chana Porter
If you read Annihilation and loved the freaky, atmospheric prose, you are going to want to pick up The Seep. Where Annihilation left many of its characters shrouded in mystery, The Seep is more of an emotional journey. Though the main character (a trans lesbian of color!) travels a great distance in this strange world, we're along for the ride as she parses through the loss of her wife becuase after all, when is a journey ever what it seems. A review will be published closer to the pub. date, but I did share some of my initial thoughts on Goodreads.
Speculative Fiction| January 21, 2020 | Goodreads
21. Seasons of Glass and Iron by Amal El-Mohtar
In preparation for the release of This is How You Lose the Time War next month, I was going back and reading Amal El-Mohtar's short fiction and was really struck by a story she wrote in 2016. Seasons of Glass and Iron feels dream-like and poetic, almost like a fairytale. I hadn't been intending to include anything shorter than a novella in these recommendations, but this one really stuck with me.
Fantasy| November 2016 | Read it here
Other Great Pride Posts!
I'm so floored by all the amazing content being put out by other reviewers this month, how could I not share? These are of course, just a small selection of the great posts I've stumbled upon in the past week (and then, the ones I remembered to grab the URL of before losing posts to The Void).
If you're reviewing queer books, sharing recommendations for Pride, hosting reading challenges or anything else, leave a link in the comments or send me a message so I can include it in these posts!
---