★★★★★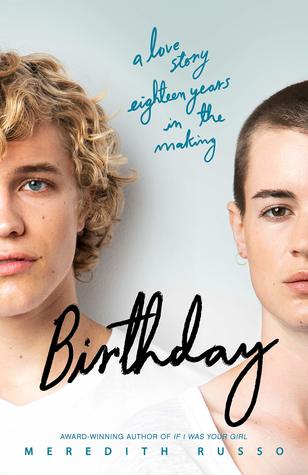 This is a difficult book for me to review. Not because I have mixed feelings, but because there is so much I loved that I only hope I can do it justice. Birthday is the story of two best friends, born on the same day, in the same hospital. On the night they were born a freak snowstorm struck the area and stranded their families together. From then their fates were sealed: friends for life. Their story is told in snippets, starting on their 13th birthday and continuing until they turn 18.
By 13, Morgan has realized that something is wrong. Between the loss of her Mom, a struggling with a distant relationship with her father, and being the subject of her rural town's torment, Morgan can't imagine losing her best friend. She'll play it safe, even if it means hiding here true self from the person she cares about most.
When my copy of Birthday arrived I picked it up with the intent of skimming the first few pages to get an idea of Meredith Russo's style. I read a page, and then a couple more, and then all of a sudden I was 100 pages in. Without exaggeration, this is easily the best YA book I have ever read, and certainly one of my favorites of this year. This own voices story is equal parts powerful, uplifting, and heartbreaking. I have so much appreciation for the way Morgan, a trans girl, is represented in this book and I cannot wait to pick up Meredith Russo's books in the future.
Going off initial impressions I don't think I would've picked this for myself, but I couldn't be more thrilled that I did. Even if you're on the fence, give Birthday a try. Let it surprise you in all the best ways.